Details

VELCRO® brand ONE-WRAP® Straps are high performance, reusable fasteners designed to making bundling cables easier and more cost effective then plastic ties. Die-cut with a wider tab with a slit on one end and a rounded tip on the other, these straps are supplied perforated on cross-wound spools. With 10 different colors, they are ideal for electrical and network cable coding.
Related PDF files: ONE-WRAP® Fasteners
Fire retardant VELCRO® brand ONE-WRAP® strap is also available, certified to MVSS 302, FAR 25.853 and UL 94-V2.
Standard widths available: 3/8", 1/2", 5/8", 3/4", 1", 1-1/2", 2", 4"
Standard colors available: Black, White, Red, Orange, Yellow, Green, Royal Blue, Purple, Brown, Beige, Light Grey
Fire Retardant: Black and Cranberry only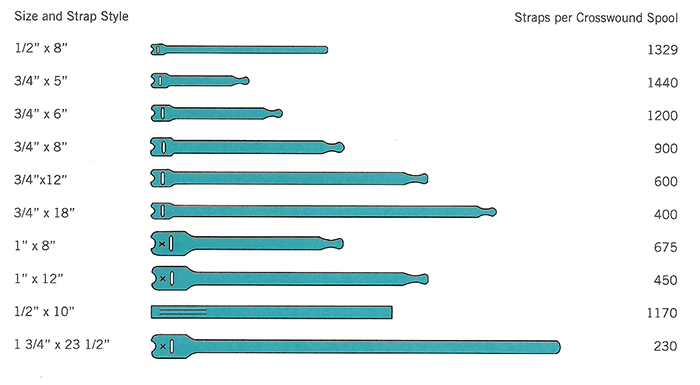 VELCRO® Brand ONE-WRAP® Straps
Additional Info
| | |
| --- | --- |
| VELCRO® Brand Part Numbers | 161250, 169611, 170091, 170247, 170353, 170774, 170776, 170782, 170783, 170784, 170790, 170791, 170793, 172704, 174708, 174834, 175391, 175464, 175474, 175617, 176040, 176042, 176043, 176044, 176045, 176408, 176056, 170779, 151480 |
| Unit Name | per roll |
Reviews
Untangles the mess of wire spaghetti ,

5/12/2015




By IT Guy

I'm an IT manager for a large corporation. People used to complain about all the wires all over and behind their desks from their computer equipment. And our technicians wasted a lot of time trying to sort through the spaghetti of wires to find the right ones when we had to repair stuff. Last year, we purchased a number of One-Wrap straps in different sizes and colors and now every station has their wires wrapped up and color coded by use. Our technicians have increased their productivity exponentially and our executives are much happier that they don't have to see a mess of wires behind their desks. It's been a win-win! I'm even using it at home now. Thanks Levitt!
Read all Reviews
|
Add Your Review