VELCRO® Brand Industrial Tape, Hook 88 and Loop 1000 Woven Nylon
VELCRO® brand self adhesive fasteners are the industrial grade standard for adhesive backed, reusable, self-gripping fasteners perfect for securing a variety of products.
Volume Discounts for multiple rolls


Prices shown are per yard. Minimum order is 1 roll = 25 yds.
Please note that the Hook and Loop are sold separately.

VELCRO® brand Industrial Strength, Pressure Sensitive Tape, an Industrial Grade Hook & Loop fastener, are woven from high quality nylon, and are available with a variety of Pressure-Sensitive Adhesives, making them ideal for a wide range of everyday applications. This durable and versatile product is perfect for applications such as signage and packaging which require good shear strength, high cycle life and easy peel. In addition to the standard put-up of 25 yard reels, the VELCRO® brand  Hook & Loop are also available in larger Dispenser Packs and on Cross-Wound Spools.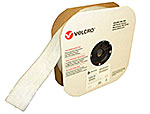 Standard widths available: 1/2 inch, 5/8 inch, 3/4 inch, 1 inch, 1-1/2 inch, 2 inch, 3 inch, 4 inch, 6 inch.

    In addition to the standard 15 rubber-based and 72 acrylic adhesives, the VELCRO® brand tapes are available in a variety of specialty adhesives, including solvent, heat and ultrasonic activated precoats.
Related PDF files: Industrial Grade Hook Data Sheet, Industrial Grade Loop Data Sheets, VELCRO® brand Adhesive Guide
More Information

| | |
| --- | --- |
| SKU | 10-01 |
| VELCRO® Brand Part Numbers | 129722, 151813, 153261, 153317, 154016, 154380, 154391, 154607, 154843, 158495, 158498, 158499, 158505, 158509, 158511, 158753, 158757, 161820, 161821, 161827, 161830, 161831, 161832, 161834, 161837, 161839, 166477, 172322, 172323, 173052, 175676, 175677, 176750, 179005, 179006, 179805, 184987, 184988, 184989, 185197, 185198, 185231, 185449, 185469, 185470, 186070, 186272, 186273, 186310, 186587, 186590, 186638, 186650, 186661, 186762, 186763, 186764, 186765, 186839, 186895, 187229, 187230, 187256, 187278, 187913, 188320, 188466, 188498, 188755, 189453, 189461, 190821, 190828, 190836, 190873, 190878, 190882, 190899, 190904, 190911, 190920, 190935, 190937, 190940, 190959, 190972, 190984, 191008, 191023, 191033, 191041, 191051, 191096, 191129, 191135, 191140, 191157, 191166, 191181, 191191, 191195, 191208, 191222, 191231, 191241, 191245, 195472, 195473, 196256, 196316, 196317, 196338, 196692, 196802, 197058, 197068 |
| Unit Name | per roll |