VELCRO® Brand Mil-Spec Sew-On Tape
Designed to meet Mil-Spec AA55126. VELCRO® Brand Sew On in military colors are reusable, hook & loop fasteners for securing a military and hunting materials.
Volume Discounts for multiple rolls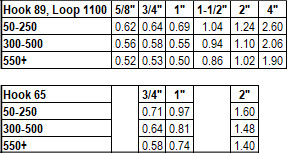 Prices shown are per yard. Minimum order is 1 roll = 50 yds.
Please note that the Hook and Loop are sold separately.

VELCRO® Brand Sew-On Hook & Loop fasteners designed to meet Mil-Spec AA55126 are available in Nylon and Polyester in a wide range of colors.
Standard widths available: 5/8", 3/4", 1", 1-1/2", 2", 4", 6"
Our stock of VELCRO® Brand Mil-Spec Sew-On Tape is constantly evolving. Other colors, types and class may be available from stock or for special order. Please call.
Related PDF files: Military Solutions, Military Color Cross-Reference, VELCRO® Sewing Guide
More Information

| | |
| --- | --- |
| SKU | 15-01 |
| VELCRO® Brand Part Numbers | 128747, 128828, 128829, 128830, 128831, 128959, 129094, 129354, 129356, 129357, 129358, 129431, 129432, 129528, 129805, 129819, 129876, 129954, 129960, 151595, 151598, 151800, 151891, 151959, 152411, 152491, 153584, 153619, 153623, 153627, 153632, 153635, 153638, 153642, 153645, 153647, 153766, 153776, 153849, 153938, 154164, 154345, 154445, 154708, 154709, 154772, 154813, 154990, 154991, 155086, 155212, 186540, 186541 |
| Unit Name | per roll |