VELCRO® Brand ONE-WRAP® Tape, Standard & Fire Retardant
VELCRO® Brand, ONE-WRAP® Tape is a reusable, self-gripping fastener perfect for securing a variety of products. From cable management. and bundling sticks and pipes, the uses are limited only by your imagination.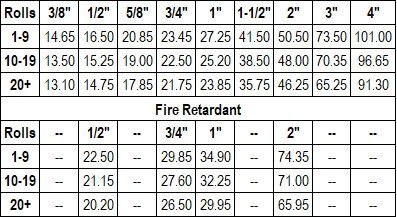 Prices shown are per roll. Minimum order is 1 roll  
Volume Discounts for multiple rolls of same Width and Color.



VELCRO® Brand ONE-WRAP® Tape is a high performance, reusable fastener. Constructed of low-profile Hook and Loop laminated back-to-back, it is specifically designed to make bundling cables easier and more cost effective then plastic ties. Available on a standard 25 yard roll, it is easy to cut the specific lengths you need. With 11 different colors, they are ideal for electrical and network cable coding.
Fire retardant VELCRO® Brand ONE-WRAP® strap is also available, certified to MVSS 302, FAR 25.853 and UL 94-V2.
Standard widths available: 3/8", 1/2", 5/8", 3/4", 1", 1-1/2", 2", 3", 4"
Standard colors available: Black, White, Red, Orange, Yellow, Green, Lime Green, Royal Blue, Purple, Brown, Beige, Light Grey, Pink, Cranberry, Lt Yellow, Lt Blue.
Fire Retardant: Black and Cranberry only
PDF ONE-WRAP® 888 Tech Data Sheet    ONE-WRAP® 889 FR Tech Data Sheet    ONE-WRAP® Fasteners
More Information

| | |
| --- | --- |
| SKU | 13-01 |
| VELCRO® Brand Part Numbers | 151476, 151494, 151499, 151051, 175010, 175533, 158574, 169476, 170042, 174298, 174325, 174427, 174428, 176062, 176064, 176065, 176067, 176074, 176076, 176077, 176080, 176081, 176083, 176084, 176085, 176908, 176929, 179325, 179915, 189589, 189590, 189645, 189661, 189662, 189691, 189695, 189699, 189754, 189755, 189811, 31033 |
| Unit Name | per roll |